Which Fire Alarm System Is Right For Your Business?
Thursday, December 9th, 2021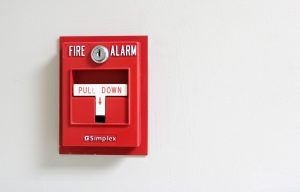 Making sure that your business has fire alarm systems is a key component to keeping your business safe and prepared for anything that might happen. Sometimes, it might be difficult to know where and how to start planning for the fire alarms and their locations. This guide will help you to better understand what it is that your business needs. And, as always, it's important to find a reputable company to aid you in this process. 
What you should remember
To have a fire alarm system installed in your building, it must be done by a licensed fire alarm technician, residential fire alarm technician, residential fire alarm superintendent, or a fire alarm planning superintendent. The person who is doing the installation must be licensed under the Alarm Certificate of Registration. This is also required for service or maintenance of any and all fire detection and fire alarm systems.
If your fire alarm system needs to be connected to a monitoring service, that service must be registered under a certain insurance code and the equipment must be in compliance with that code as well. 
For all of the codes and regulations for 2021, you can view them here. 
Conventional Fire Alarm
The conventional fire alarm system is most commonly used by smaller businesses in lower-risk environments. The alarm system has a broader zone range so that it can detect smoke and fire within a large area. This fire alarm does not tell you the precise location of the fire like other systems would. 
Addressable Fire Alarm
The addressable fire alarm system is a more intelligent system when it comes to fire alarms. Each separate system has its own electronic address that can tell you precisely where the fire might be occurring. It also helps first responders determine the area that needs to be prioritized. 
Vitel Communications
At Vitel Communications, we can help you with the design and installation of fire alarm systems. We are dedicated to providing your business with the best quality and service in the industry. Send us a message to get started!