Security Systems For Small Businesses
Monday, March 7th, 2022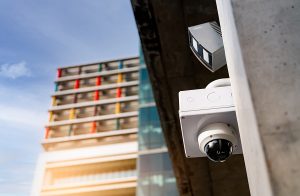 Whether you are ready to open your own business or have been in business for years, security systems are vital to the safety and security of your business. But, what many people aren't aware of is the many factors that go into choosing and installing these systems. Here are some things to consider when the time comes to decide on the safety of your business. 
What requirements does your business need? 
Now, the first thing that comes to mind when you think of a security system is probably video surveillance. If that's the case, make sure that you find a reputable company that will monitor those systems in case anything sets them off. What if you aren't sure what aspects of a security system you will need? Let's break it down!
Most business owners don't sit around all day watching their video cameras, but they are there in case of emergencies. Maybe there was an issue that occurred where you will need to show the authorities or insurance agency the footage of when it happened. This allows you to be 100% covered in case of an accident. 
It's always important that your business has some sort of fire alarm system in place. You never know when a fire will break out and you need to make sure that everyone inside is safe as well as your building. 
Security alarm systems have many functions. Some have glass break detectors and motion sensors to alert you if something were to happen. 
This allows for you to only give access to the building to people who need it, such as yourself and your employees. This helps keep out anything that might harm you, your employees, or your business. 
These sensors are installed to help alert you when there is something gaseous inside of your building. Things that these sensors typically pick up on are carbon monoxide. 
Remote monitoring allows you to know what's going on at all times. It lets you know when someone entered or left the building or if there are any issues. If you choose the right company, they will even monitor your systems while you aren't able to. 
Does your company have the right security system?
Contact us at Vitel Communications for anything you need regarding security systems. We are here to keep your business safe and secure. If you have any questions, you can check out our services here.