NOTIFIER Bi-Directional Amplifier Systems
Tuesday, August 16th, 2022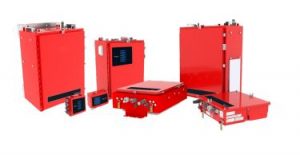 Is your building prepared to protect the people who protect you during an emergency event? NOTIFIER's Bi-Directional Amplifier (BDA) and Fiber DAS emergency communication system is designed to enhance in-building radio frequency (RF) signal coverage for public safety use.
Emergency Responder Communication Enhancement Systems was created by the International Building Code. They were initially developed to establish the performance of the portable radios that emergency responders would use inside of buildings when they were called to certain locations. Certain construction features had been blocking the signal or absorbing the communications so that the first responders were unable to understand what was being said over the radio. 
Code Requirements
The following codes require all buildings to include the approved level of emergency communication for emergency responders:
IBC 2021 Section 916

NFPA 1 2021 Section 11.10

IFC 2021 Section 510

2019 NFPA 1221 Section 9.6

2022 NFPA 1225 Chapter 18
Notifiers Bi-Directional Amplifier (BDA) helps to solve these problems. By enhancing the in-building radio frequency, the BDA system helps to stop any ERCES system that comprises the signal. 
The UL2524 was only recently introduced but provides building owners the certainty that their systems are code compliant. These BDA systems will ensure reliable communications when the need for emergency responders is necessary. 
Coverage Problems
Unsure if your building might encounter problems with signal strength? Below are the building types that should pay close attention to when it comes to reliable communications:
Concrete buildings

Metal buildings

Large buildings

Underground structures
If you are unsure of the ERCES requirements, it is best to hire a company that specializes in these systems and the building requirements. Each building submittal must contain a reference to the ERCES to avoid any issues when building construction begins. 
Vitel Communications 
Vitel Communications specializes in multiple systems, including the Bi-Directional Amplifier. If you are unsure of your system or the coverage that it entails, let us help you. We are trained and certified in life safety systems that keep you and your business safe. Contact us today!