Creating An Emergency Evacuation Plan With Your Security Team
Wednesday, January 13th, 2021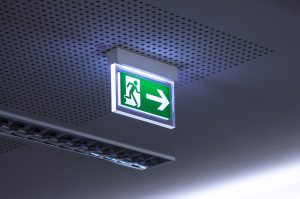 You plan for many things to help keep your business successful, but what about emergency evacuation? Not having a solid plan in place will put your staff, clients, and entire livelihood in danger. Emergencies can include things like natural disasters, man-made threats, and even cyber attacks. Because there are so many variables at play, you need to know how to plan evacuation procedures with your security team.
The basics of creating an evacuation plan
Before you can create one, you must understand the foundations of what makes a great plan. The following are some things you should keep in mind when developing your emergency evacuation plan. Don't forget to speak with your security company to see if they have any recommendations as well.
It will take careful planning. This sounds redundant, but it really does take significant consideration to create your evacuation procedures.
Training can help. Consider in-house and classroom training for the people in your company who will be responsible for the plan.
Drills will help your staff remember the evacuation procedures.
Ask for education from your security system installers. They will be able to provide you with vital information about the equipment. Institutions like OSHA can be a major asset as well.
Use technology to your advantage. You can create videos, for example, to explain your evacuation plans and procedures.
If you run a multi-unit building, involve all your tenants. Everyone should be on the same page when it comes to an emergency evacuation plan.
Familiarize yourself with your property. You will need to know everything about it. For example, is your building a high rise? What kind of security systems do you already have and what can you upgrade?
What you need to develop your plan
Because these types of procedures involve so many factors, it can help to start with a checklist. By using the tips below, you should be able to create the foundations of a solid plan.
Know what situations require evacuation
Some emergencies don't call for evacuating your staff, like cyber attacks. You should have separate plans for dangers like these. Your plans and procedures should include all of the possible situations that would require an orderly evacuation. This could include fires, bomb threats, natural disasters, and gas leaks.
When considering evacuations, you should also think about sheltering in place. By including situations where it is safer to stay put, you can help your staff and tenants avoid confusion. This could include things like weather events (tornadoes, hurricanes, etc…) and chemical threats outdoors. Be sure to have a designated space for staff and visitors to wait for the danger to pass.
Designate a chain of command
Having a clear chain of command will help alleviate confusion and panic during an emergency. Your plan should include who is in charge of evacuations from the top level down. Start with who calls for the evacuation, move to who is in charge of each floor or department, and then list who will be in charge of checking that everyone is out safely. You will also need to note who will work with your security company.
Be detailed
The success of your plan depends on organization as well as details. Make sure to mark all exit locations and assembly areas on a clear map. Include routes and emergency equipment as well. All of these areas should be kept clear and easily accessible.
Keep visitors in mind
If you allow visitors or have clients coming in and out of the property, you need to be aware of their safety too. It is best to keep logs of whoever is there. You can do this on a computer or on paper if you feel more comfortable. Log when they arrive, how long they are there, and when they leave.
Designate someone to be the "evacuation warden" and put them in charge of no more than twenty people. They will be responsible for checking offices, doors, and bathrooms in their area. They can also be in charge of checking visitor logs to make sure everyone is safe.
Pro tip: Having a visitor management system in place can enhance your safety team's ability to account for visitors. This is a cloud based system that you can access once everyone has gotten to the designated assembly areas(s).
Make sure your alarm systems are up-to-date
Without fire and security alarms, your evacuation plans might not even work. You need to make sure that all of your systems are in the best condition possible. If you need a new system installed, find a provider that offers monitoring and maintenance as well. By doing this, you can ensure that the security company you work with knows your property and plans as well as you do.
Do you need a fire alarm or security system specialist?
If your property could use a security and fire alarm system upgrade, contact the professionals at Vitel Communications today. We provide a comprehensive list of Services, including alarm installation and monitoring through our UL listed, FM approved monitoring station. Send Us an Email to learn more about our dedication to keeping your business safe.