Benefits Of Honeywell's VESDA
Monday, November 7th, 2022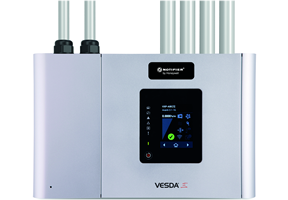 Honeywell's VESDA is a Very Early Smoke Detection Apparatus that was designed with businesses in mind. It is vital for companies to have early and reliable smoke detection in the event of an emergency. With this technology, you are saving more money in the long run in order to keep your business safe. The VESDA is cost-effective and accurate technology that reduced the chance of false alarms. Take a look at this article to learn more about what this technology has to offer your business. 
Maintenance
This technology has a single detection chamber that is centrally located making it easy for maintenance workers to service without having to touch each and every spot of detectors. It also has a built-in predictive maintenance feature that reduces downtime and costs. 
Operations
By actively pulling and sampling the air within the building, this technology makes it easy to detect the smoke as quickly as possible. It also allows you to pinpoint the exact location of where the smoke is coming from making it essential to your life safety plan. 
Design & Installation
Honeywell's Aspire pipe network software allows managers and installers to design and collaborate on creating an efficient and cost-effective layout. Each building has a unique structure to it which could make the design complex, but the VESDA uses a single network of tubing to allow for detection in concealed spaces.
Service & Support
Engineered system distributors are trained and certified to service VESDA. Local companies know exactly how to design, install, and maintain these systems. These companies make sure to keep the systems in compliance with local codes and regulations and adjust them accordingly to climate conditions. 
Programming
Central programming allows for the adjustment of different sensitivities to different locations. It allows you to change the settings depending on if it is next to an air conditioner or if the area masks smoke. This system also adjusts for situations that might trigger a false alarm by detecting polluted or dust-ridden air. The VESDA system can also be programmed to activate when it is truly necessary to protect your business from downtime or damage to your assets. 
Vitel Communications
Vitel Communications specializes in the design, installation, and maintenance of all life safety systems for your business. Let us help you come up with a plan today! Give us a call at 1-877-66VITEL or send us a message.