4 Common Causes Of Electrical Fires
Monday, February 8th, 2021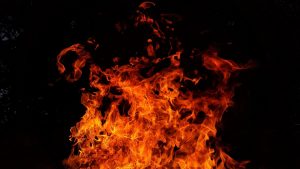 A recent study showed that there were over 51,000 electrical fires just in homes alone. This resulted in nearly 500 deaths and 1,400 injuries. The damages from these fires is estimated to be almost $1.3 Billion. Fire safety is important, and it's important to make sure all of your fire alarms, smoke detectors, and monitoring systems are up to date and active. Let's all practice fire safety.
Faulty Outlets
Old or outdated appliances could be a huge factor when it comes to electrical fires. Older appliances can have problems when it comes to their cords. Using a cord that has a frayed end or has the outside lining ruined may cause combustible items around it to catch on fire. When plugging something into an outlet make sure that it is secure and the outlet is up to date. This can help prevent any fires.
Light Fixtures
When the lightbulb in your lamp goes out, people tend to just go to the store and buy the first one that they think looks right. This can cause your lamp to catch on fire. When you need to replace a lightbulb in any light fixture, it is important to make sure that the watt is whatever the fixture can handle. Otherwise, it will result in an unwanted fire. Also be sure to never cover the light with a cloth or paper, these are combustible items that can easily catch fire.
Extension Cords
Extension cords can come in handy when you need to reach somewhere that's far away from your outlet. Electrical fires can result from an extension cord when not used properly. Always make sure that you are plugging in appliances straight into the outlet and avoiding any extension cord.
Space Heaters
We know how beneficial a space heater can be when your heater goes out, you have a cold office, or you're just cold natured. What a lot of people don't realize is how easily they can catch the things around them on fire. One of the most common ways that they can start a fire is when they are put around or near any combustible items like a picture frame, blanket, clothing, etc. To keep yourself and your belongings safe, make sure to keep your space heater away from anything that it can light on fire.
Learn More
Vitel Communications can help you when it comes to installing the correct fire alarms for your businesses. We have Fire Alarm Monitoring to make sure your business is safe. Click here to learn more about our services!